It's a City For Kids, Run by Kids!
---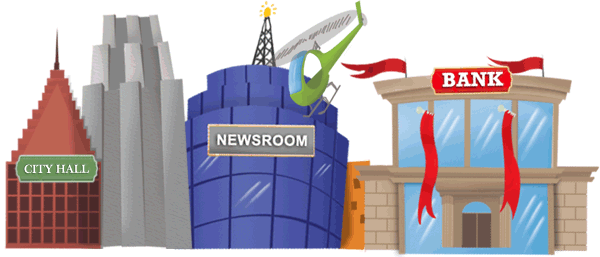 The Kidtropolis exhibit and programming immerse visitors in learning experiences that build their financial literacy and understandings of civic engagement. The thematic wrap for Kidtropolis is the city itself—a set of iconic buildings that both mirror and highlight the diverse community of Fort Bend county.
The city is completed by the children; they become the leaders, voters, workers, shoppers and business owners.
In Kidtropolis, visitors role play as they explore their city, take on jobs, and engage in their roles as producers, consumers, and decision makers. Visitors earn income by working in Kidtropolis, use Kidtropolis money in a way that models real life, and engage in trial and error to discover the importance of money management and financial planning
Kidtropolis

includes the following businesses:

Art Academy sponsored by OcuSOFT®
Bank sponsored by Wells Fargo.
Bank Building sponsored by Fred and Mabel Parks Foundation.
Diner sponsored by Another Time Soda Foundation & Café.
H-E-B Market sponsored by H-E-B.
Kidtropolis Community School sponsored by Fort Bend Christian Academy.
Municipal Building sponsored by Manmeet and Paul Likhari.
News Bureau sponsored by Fort Bend Herald.
Precision Center sponsored by Mercedes-Benz of Sugar Land.
Vet Clinic sponsored by ABC Animal and Bird Clinic.
What do visitors do in Kidtropolis?



Earn, spend, save, give, borrow and invest money.
Make choices about where their money goes.
Vote on decisions that affect the Kidtropolis community.
Work in different buildings in Kidtropolis as bankers, diner employees, teachers, mechanics, market managers, detectives, reporters, EMTs, dispatchers, veterinarians, artists, and much more.
Work with others to keep the city running.
Participate in special hands-on programming related to various topics including financial literacy, art, and creative problem solving.
Make your voice heard. Visit
Kidtropolis, USA
today!
Take Kidtropolis, USA home with you!
---
Like this exhibit? Check out these activities you can try at home:

APP SUGGESTIONS FOR KIDTROPOLIS
---
Fort Bend Children's Discovery Center is providing the list below as an educational resource, and does not endorse these apps. For a complete list of our recommendations, please visit www.21-Tech.org.

$1.99
Learn how to recognize, count, add, and make change with U.S. coins.



$1.99
Discover foods from other countries by filling your plate with over 250 different kinds of foods from 19 countries.


$1.99
Create your own masterpiece using realistic art tools and mediums including, markers, paint, crayons, colored pencils, stickers, roller pens, and more.

**App descriptions have been extracted from the app developers' websites.
Sponsored by:
---